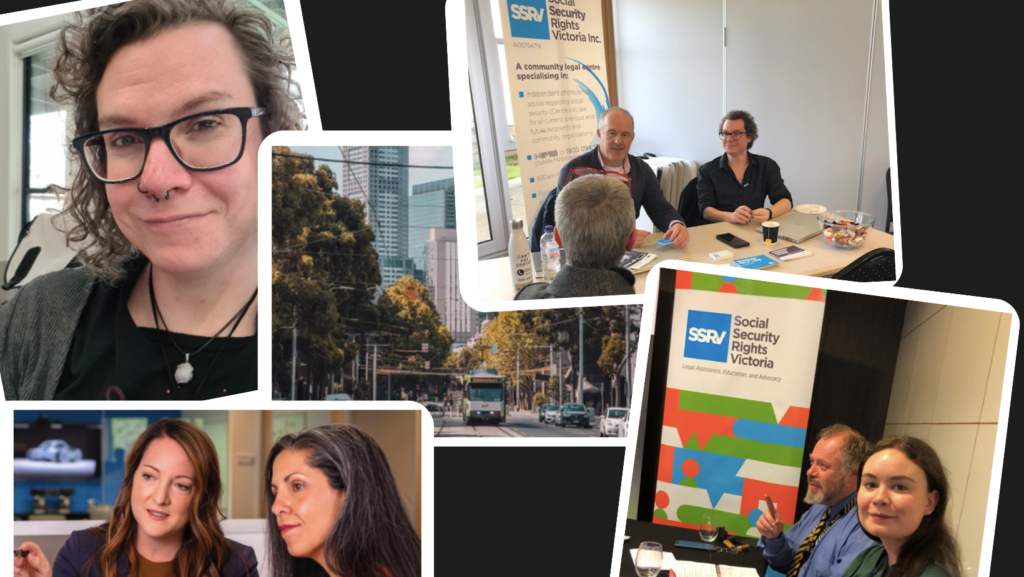 SSRV provides legal services to vulnerable and disadvantaged Victorians, and those who support them, to secure and protect their right to social security entitlements. We know that Centrelink disputes and decisions on eligibility can cause mental distress, and financial hardship can exacerbate existing problems.
While we see the positive impact of our work, we also know this to be true: for vulnerable Victorians and the people who support them to receive our help, they need to know who we are, what we do, and how we can help.
That's why, instead of waiting for people to contact us, SSRV regularly goes to them.
Recently, SSRV hit the road, attending events where they were able to speak directly to people receiving Centrelink payments and community organisations that support them.
In May, SSRV Community Lawyer, Veronica, attended a Bring Your Bills Day hosted at the Rumbalara Aboriginal Co-Operative. Along with representatives from Consumer Action Law Centre, Victorian Aboriginal Legal Service, and Births, Deaths and Marriages, Veronica provided services directly to people in their local community.
"It was a great reminder of the positive impact we can have," says Veronica. "And the need for flexibility in service delivery, meeting our clients on their terms and with their needs in mind."
A couple of weeks later, SSRV Project Worker Mark, and Communications Officer Margie, attended the Festival of Ideas, hosted by Financial Counselling Victoria. The festival connected organisations who support and work with people experiencing financial hardship.
The theme of this year's festival was Priceless – the Unpaid Contribution, where attendees learned about initiatives designed to inform and support older people, unpaid carers and other members of our community.
SSRV had a stall at the festival and throughout the day Margie and Mark met representatives from community organisations, many telling them that about times they have contacted SSRV on behalf of clients, and how thankful they were that SSRV was there to help.
"The day really reaffirmed to me the importance of our work," says Margie. "It was so pleasing to hear the stories of how we have helped, but even more gratifying to be able to supply organisations who were not familiar with our work with information about how they can contact us and how we can assist them."